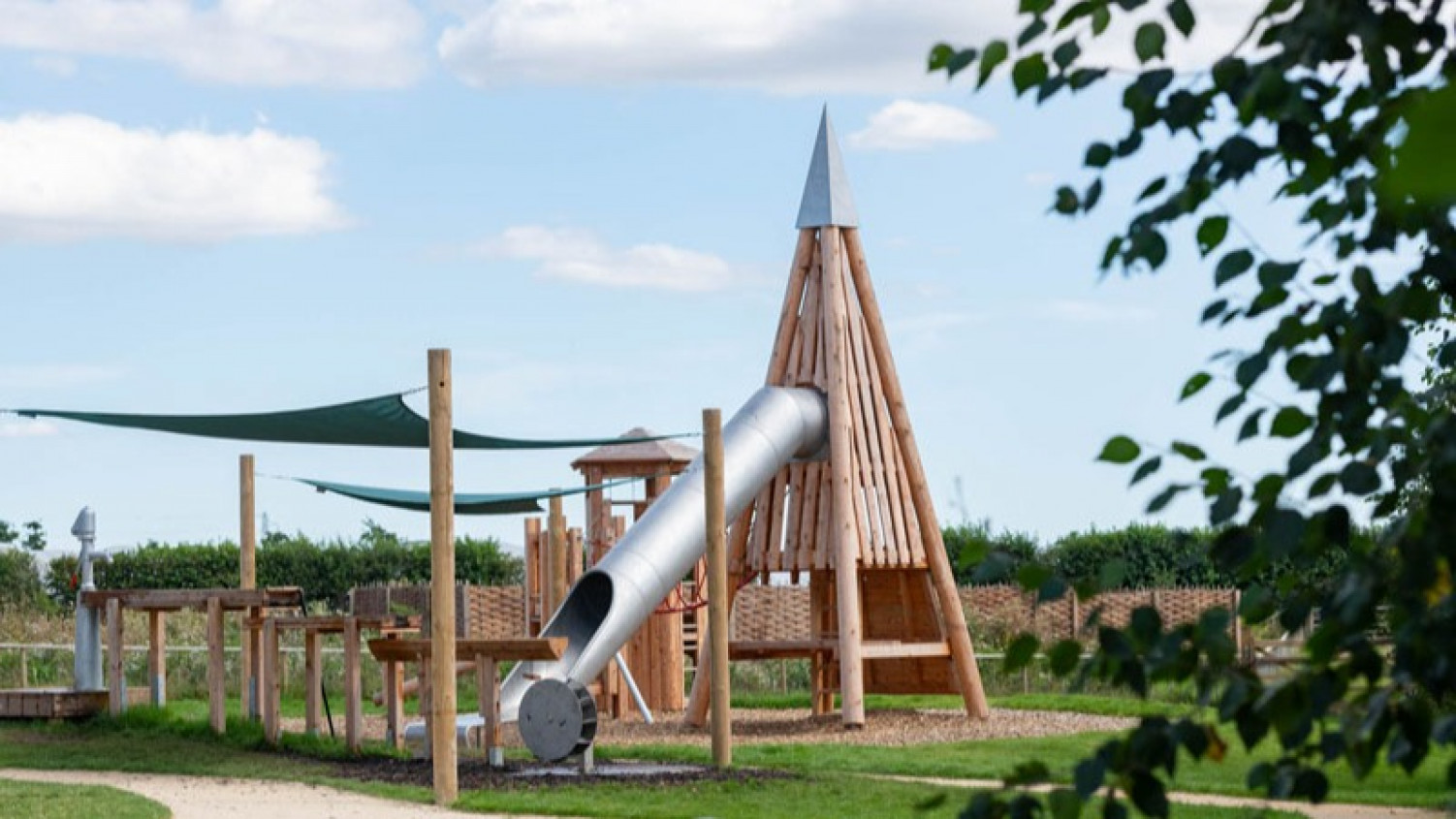 Millets Farm
Abingdon, England
Selected Case Study
Case Studies
An 'Exciting and imaginative play space' was the overall brief given by, NFAN members, Millet's Farm as they looked to expand their outdoor play offering at their Sprouts Play Barn. Through the use of landscape and natural play equipment, Timberplay's proposal brought the space to life whilst ensuring it kept the existing theme of the site and Playbarn. The master plan focused on ensuring the spaces offered play value for all ages as well as increasing learning opportunities and connections with the natural world.
The playground is split into five different areas to reflect different areas of importance to the farm; The Village, The Stream, The Silos, The Pasture and The Meerkat Trail! These areas offer a range of play opportunities for all. The Village focuses on role-play opportunities with farm-themed animals, such as Swinging Horses and Pigs paired with Tractors and a House Group to link with barns and farm vehicles. A Totter Trail is included to provide physical play experiences for toddlers to explore and enjoy.
Water play is incorporated into the play space to allow children to experiment with its flow and engage them to develop their senses. The timber water channels allow children to learn about sensations such as smell and touch when water and wood mix. Whilst the Mill Wheel has links to Grinding Grains from Silos, a chance for children to role-play a working day on the farm. A concrete pebble dish with granite edging completes the water play to allow a clean space for water to drain away, as well as looking aesthetically pleasing.
The Silo area focuses on adding height to the play space to challenge children physically but also adds the desired 'wow factor' for Millets. A combination of towers, bridges, ladders and tunnel slides at various heights up to 7 metres tall create an enthralling experience for children of all ages to test their limits whilst socialising with others.
Keeping within the farming theme, the Pasture area incorporates a Dendrophone which lets children create sounds which are reminiscent of cowbells. This is accompanied by a Climbing Stack, as well as a sheep for more role-play activities and a bespoke timber cow ideal for all ages.
Finally, the Meerkat trail creates play-along-the-way opportunities which leads users from the silos to the Meerkat enclosure viewing window. Sound cushions, a balancing beam, a bespoke Meerkat Whirligig and Jumping Discs create an alternative root to the path whilst providing sensory and physical play.
What truly sets Timber Play apart is their commitment to supporting their customers. From the outset, Timberplay impressed us with their professionalism and dedication to creating an outstanding design pitch to fit our outdoor space at Sprouts Play Barn. The initial pitch for the project was a comprehensive plan that demonstrated their understanding of our needs and their commitment to excellence which fitted into our budget. Their competitors had not been able to achieve this. All of this gave us the confidence that we were dealing with a company that genuinely cared about the outcome of the project.