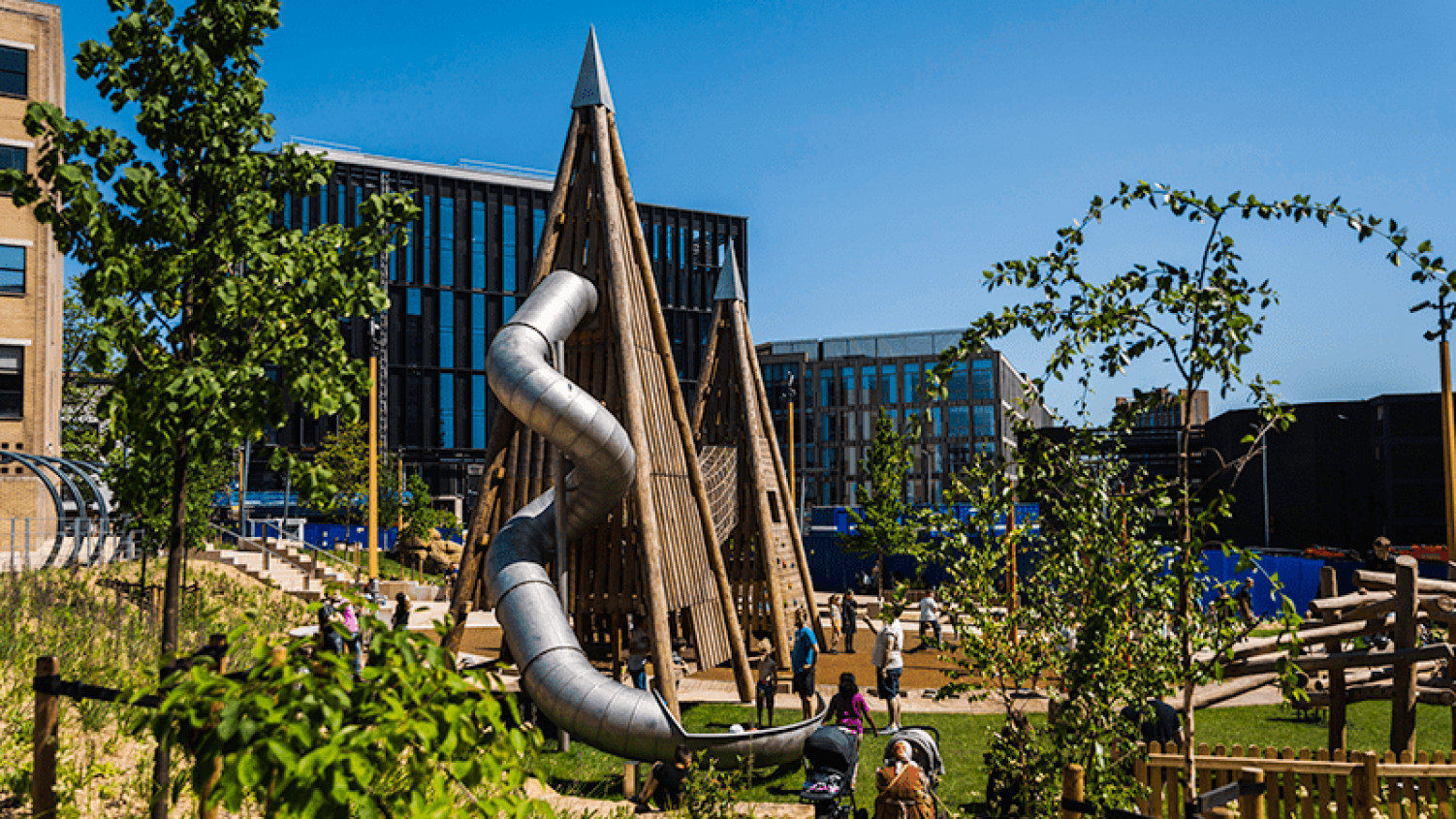 Pounds Park
Sheffield, England
Selected Case Study
Case Studies
Part of a wider 'Heart of the city' movement to transform Sheffield's city centre into a more sociable area to live with more attractive outdoor spaces, the newest phase includes a green park that closely aligns with the city's environmental ambitions. The site was previously utilised by the South Yorkshire Fire Service and gets its name from the first chief fire officer - John Charles 'Pound'.
The play area was created with the consultation of residents within the city, allowing them to have their input on the theme the playground should entail. Therefore, Pounds Park has been installed with a wide range of equipment that has been selected to suit children of all ages and abilities, including immersive waterplay features.
The main attraction and focal point within the playground consists of two pyramid towers connected by a net tunnel bridge between them, allowing for ease of access. The smaller of the two towers is equipped with a climbing wall as well as a climbing net for children to access the structure. Both structures have slides, with the taller pyramids being a lot larger. Surrounding equipment includes a climbing structure to test children's physical capabilities, as well as a see-saw and collision disc which allows for collaborative play.
On the opposite end of the playground, sand play is a key feature, with sand tippers and turning crane's prompting children to immerse themselves with the sand play. Furthermore, a sand play platform for wheelchair users has been added that is equipped with construction elements that mimic work processes from the adult world.
The waterplay flows naturally from the top of the play area all the way to the bottom, going past all the other play equipment. The water flow begins with a playground pump allowing children to use a lever to generate water. The water then flows downstream under the connected pyramids with a number of interactive play features for the children to enjoy that allow them to alter the flow of the stream. The water eventually flows to a bowl-shaped area equipped with a ball valve, which when pulled, will act as a plug, swallowing up all the water!