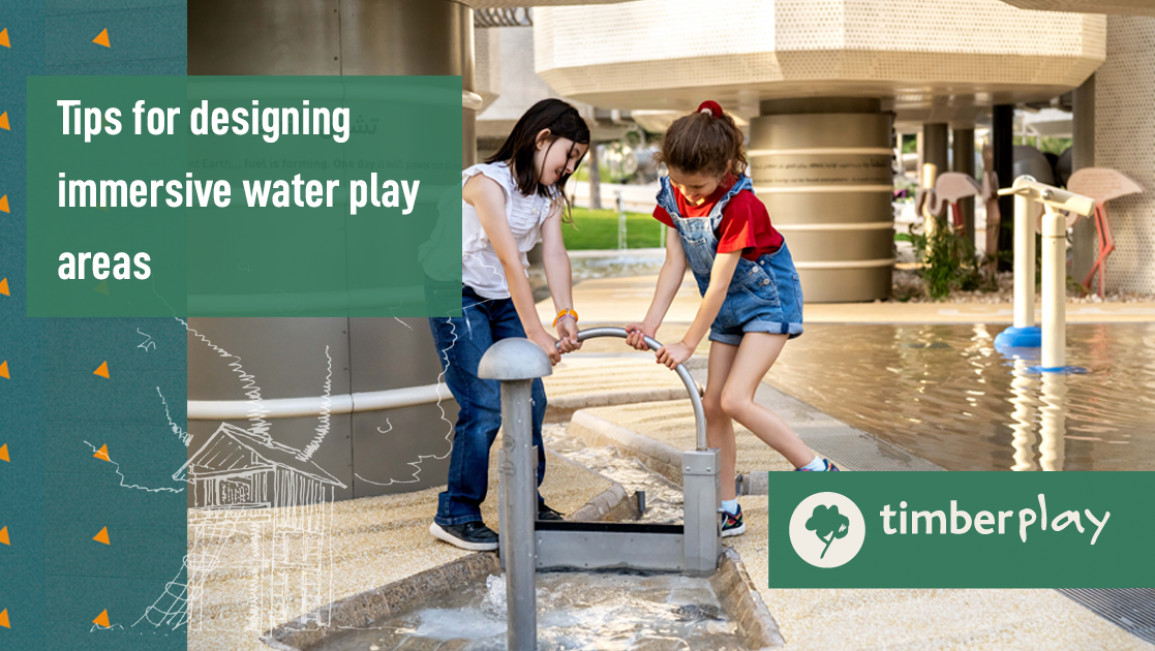 Tips for designing immersive water play areas
20 Sep 2023
Selected News Story
News
Water play areas provide an attractive alternative to traditional playgrounds that children love to interact with by spraying and splashing. It is a great way for children to develop their creative and imaginative skills and encourages early scientific learning. The best thing about waterplay is that it is not only loved by children, it is fun for all ages and abilities. It is proven to improve dwell time and satisfaction whilst offering high play value.
Designing water play areas can be challenging, and there are many complex elements to consider; we have provided a few tips below on things to consider when working on water play projects:
1. Consider the existing landscape
When creating water play spaces, one of the first things that you should consider is the landform that is already existing. For example, there may be ways to incorporate water channels that create streams down a slope for better water flow or there may be an area where puddles are created that children already play in that could coincide with the water play.
2. Water Source
A reliable water source is key for any water play area; we normally recommend this is from mains water – and therefore, consideration should always be taken into where this connection would take place. Mains water sources are ideal for children to play with as it allows them to safely play and drink the water from the system. However, there are various other sources of water that can be used, such as reservoir water or rainwater harvesting systems that create alternative and perhaps more sustainable water sources, depending on their location. It is important to consider the amount of space that is required for water to flow – we recommend you allow one water pump/source for every 10 metres of channels.
3. Consider the materials you want to use alongside water
Materials used to complement the water is another important aspect in designing a water play area as it can make the play space a lot more immersive. Some play areas may consider using Wooden Channels for the water to pour down, keeping the design natural and giving a chance for children to experience the smell and touch of natural timber when wet. Rather than using gutters/channels, some designs will use steel or concrete rills to create a sloped surface for the water to flow down or rocks to guide the water in a specific direction. When considering which materials to use for a water play area, it may be important to first think of the accessibility of the play area for those with disabilities. Consider installing wheelchair ramps, support bars, and other features that make the area accessible to all.
5. Think about the amount of people using the space
Having the necessary equipment based on the amount of people that will be using the space is important in having a successful water play area. Within a large play area, the number of water sources is important as without them many of the other interactive play pieces won't be as effective, such as Bucket Wheels and Lock Gates. Another important detail is to ensure that the water flow route is long enough for the number of users that will be using it. Not only will this make the water area more exciting as children watch it go downstream, but it also allows for more interactive play elements. If more people are using the space often, maintenance will likely be required more often so consider making the equipment easy to clean and maintain. Within a smaller play space, equipment that doesn't pump out as much water may be more suited, such as Mushroom Spring's and splash pumps.
6. Choose the right equipment for the age range the space targets
The age range of children that will likely be using the equipment is an important consideration when making a water play design. If the play area is designed for younger children, having smaller equipment that they can manage is appropriate whilst also keeping fun elements. Water cannons, sprinklers and slides are all pieces of equipment suited to younger users. Older users may prefer equipment where they can see the effect of their inputs, such as water pumps and ball valves.
Timberplay are specialists in designing playgrounds and have in-house architects to help bring your ideas to life. Whether you would just like your design to be checked over before submission or you require a full design service - we are here to help. To speak with one of our expert team members, contact us here.