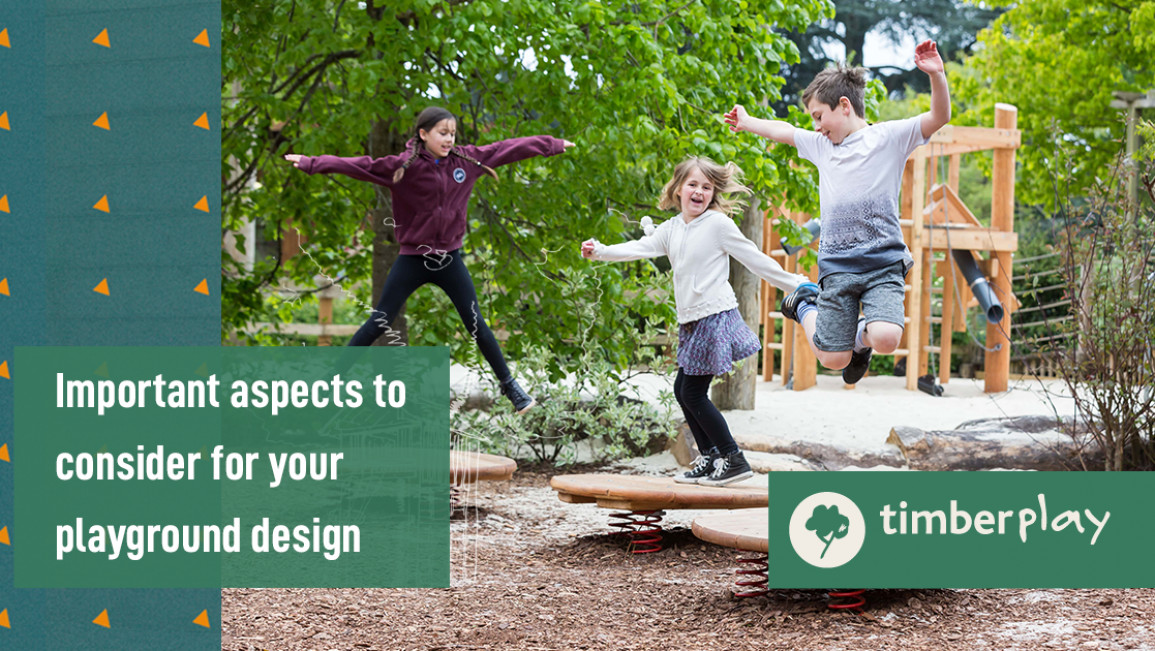 Important aspects to consider for your playground design
18 Oct 2023
Selected News Story
News
When designing modern playgrounds, landscape architects have to consider a wide range of factors, including the use of natural landscape, user accessibility and the selection of equipment, all whilst ensuring the playground stays as a safe place for children to develop physically and mentally.
The goal when designing a modern playground is to have a play space where a wide age range of children can feel comfortable and assured that there is equipment that they can utilise in a fun, safe way, whilst also having places for adults to relax and allow their children to explore the equipment.
Before the equipment and amenities are incorporated into a playscape, landscape architects essentially see the space as a blank canvas that they can develop through elements such as the topography, viewpoints and existing playful features that can be used as a base to enrich the play area.
Sense of Space
An important aspect to consider when designing your playground is the sense of space. Connecting to the atmosphere within a space can be an important foundation, whether this is an urban or rural area, a housing development. For example, at a beach side play area sand may not be incorporated as there is already an excessive amount of this resource in the natural area. On the other hand, it may be incorporated to reflect the beach side location, offering younger children an environment to interact with the material that they can incorporate into the wider landscape.
Additionally, the history of a particular plot of land needs to be explored to see if there are any antecedents which can be incorporated into the site to allow for learning whilst the child play's. You don't want to eradicate a piece of history for a 'flashy' piece of equipment that doesn't connect with the location.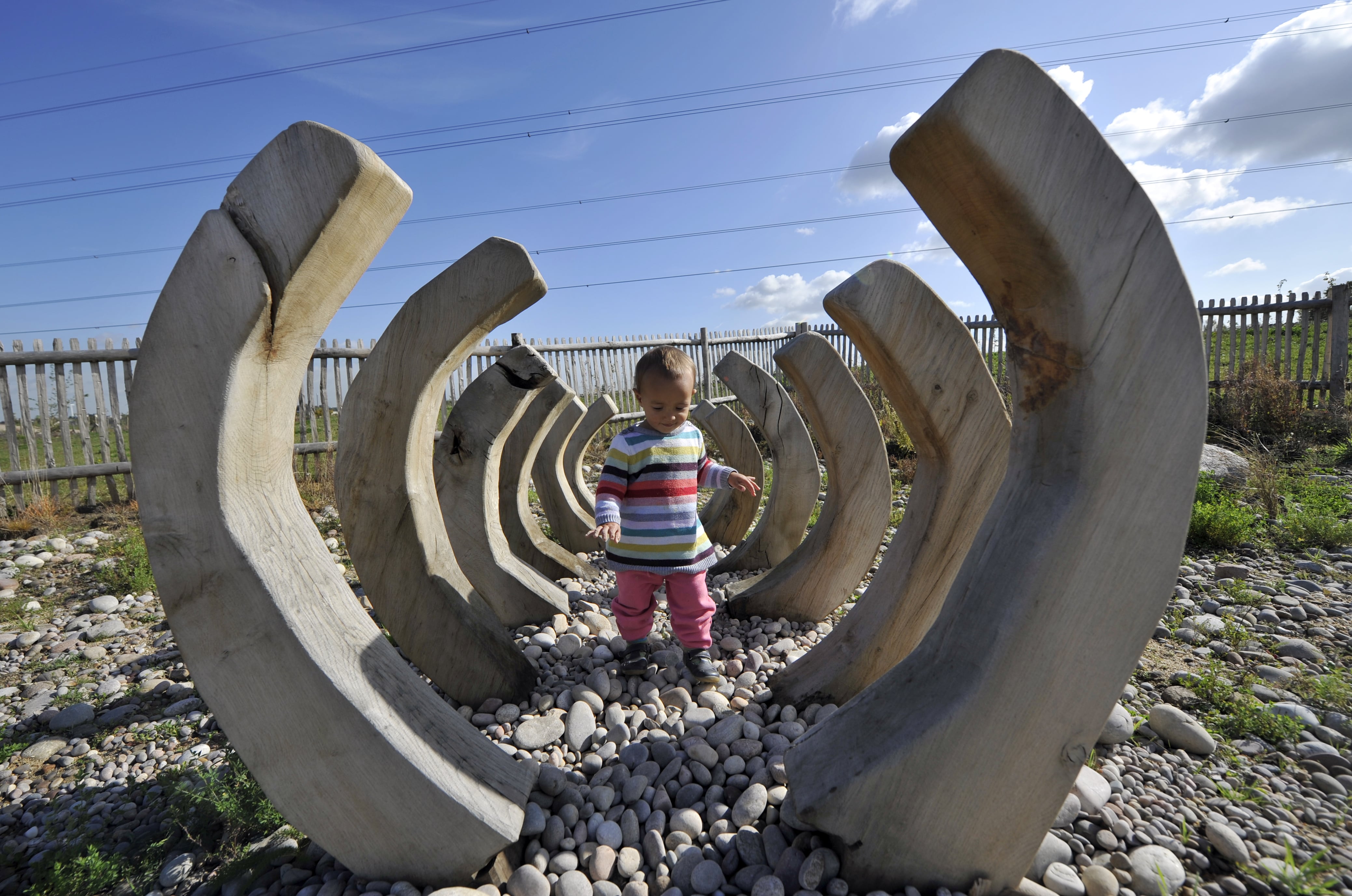 User Flow
Playgrounds need to have a natural flow about them which encourages children to explore all the pieces of equipment in an easy and intuitive way, whilst ensuring there is spaces in between equipment to avoid conflict (for example, you wouldn't want play equipment near swings due to the high speeds). To do this, designers have to use the initiative of the Urban95 movement by the Bernard van Leer Foundation of seeing the playground from the height of a three-year-old. Adopting this frame work when developing play areas can help to make them as safe as possible.
A further aspect to consider is ensuring that the most popular equipment has a range of access and exit points, to ensure that social interaction between children doesn't turn into conflict as the child can always choose to exit.
Looking after children can be exhausting, and therefore rest areas for adults are also just as important! Designers have to consider incorporating rest areas such as benches or steps in which adults can watch on as their child tests out the equipment. Having a relaxing area also means children will have more time to explore the equipment, as parents won't get tired standing and be eager to leave.
Fall zones
After the general space and clientele of the playground area have been thought through, the next important step is to consider the fall zones for when equipment is implemented that provide an element of safety.
Equipment that is compliant with the EN1176 safety standards will also have fall zones which are intended to prevent unnecessary injuries. This type of equipment includes slides, carousels and swings which are all played with at a high velocity. There also cant be intruding items within the fall zone such as hard edges and other pieces of equipment.
Surfacing
Many pieces of equipment within a playground don't actually require specific surfacing as they don't exceed the height requirements where dispersed surfaces are needed. For equipment above 600cm, it is required under EN1177 safety standard that surfacing with impact attenuation is used to try and minimalise risk of injury. This is needed for equipment such as swings and slides that require force movement. It is important to consider that without dispersal surfaces long bone fractures can occur which is why many companies use loose fill for their surfacing.
Sand as surfacing
Another way to surface your playground design is to use sand as surfacing, which allows for loose play whilst also being a material used to prevent injury. Children can often find more joy with sand as a surfacing, as they immerse themselves with it by taking off their shoes and socks! Whilst sand seems like a great surfacing to use for playgrounds, there are some important implications to consider.
Designers have to carefully use sand as a surfacing, as they don't want it to be used in areas with fast motion equipment around such as swings and slides, as if a child starts playing with the sand whilst another is on the equipment, there is a high risk of injury. Furthermore, the surfacing will need additional depth to accommodate for children moving the material around.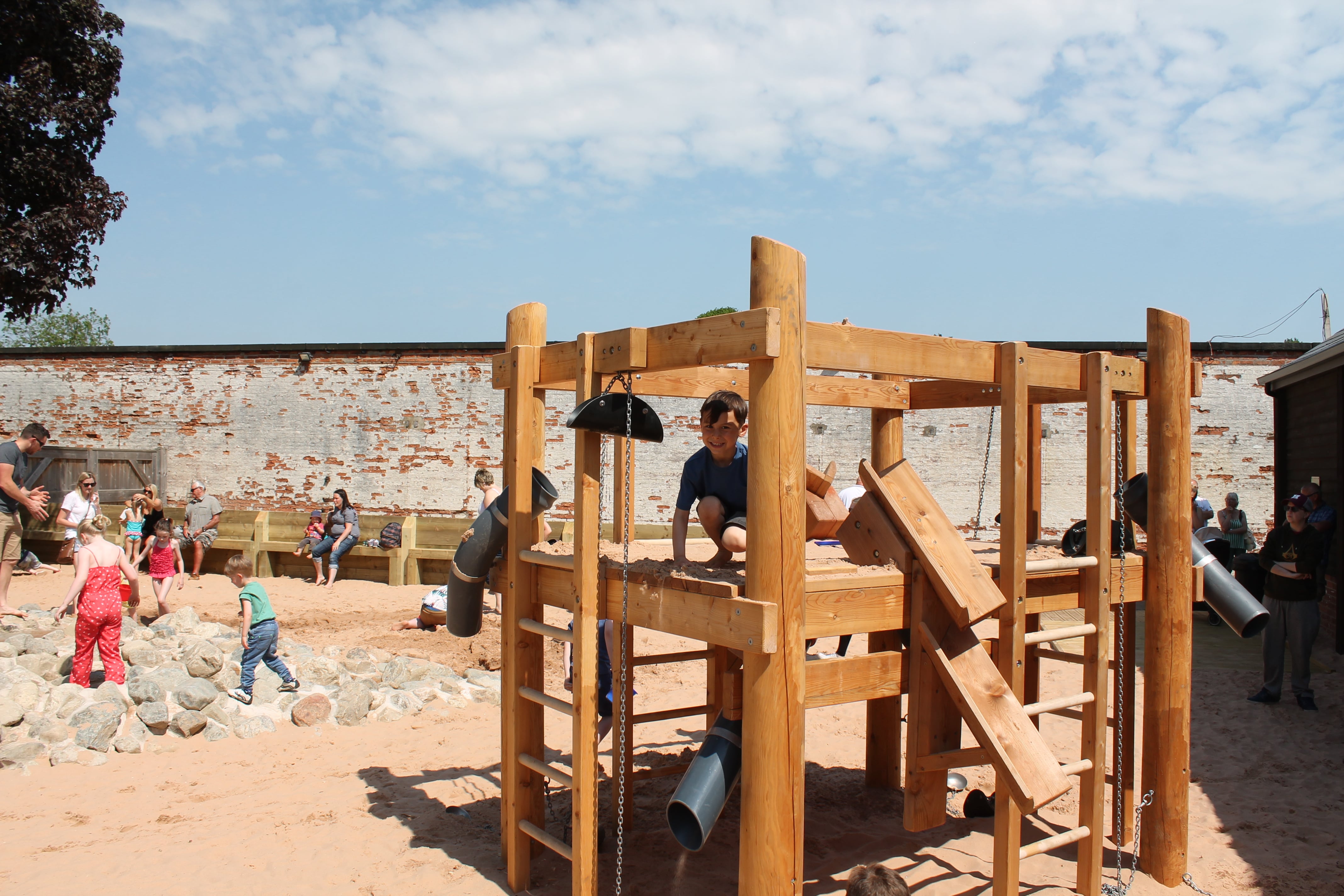 Selection of equipment
An additional consideration for designers of playgrounds is the selection of equipment being used. Playgrounds should be equipped for children of different abilities to allow for inclusiveness. Children of different ages and strength, as well as those with disabilities need to have equipment that facilitates their needs. A great way to allow for inclusive play, whilst also having children of different abilities interacting with each other is through sensory play such as conference speakers or distorting mirrors which don't require much difficulty to operate.
It is also important that children of different abilities are tested for their skill level, and therefore equipment that not every child will have the abilities to use are necessary, such as climbing walls and monkey bars to keep the play area entertaining.
Use of landscape
Use of landscape is an important element to get right when designing a playground, as when done correctly, it can make the play area feel larger and allow for more equipment involved without making it feel crammed. This can be incorporated in various ways; such as putting a crawling tunnel through a natural mound, reorganising existing logs to develop a trim trail, or simply adding benches onto a hillside for adults to relax and enjoy the scenery. The possibilities of incorporating natural elements into play are endless and are important to consider, especially on projects with a tight budget.
Utilising the natural landscape is an important aspect to consider when designing a playground to ensure the playground looks natural and doesn't stick out of place in the community.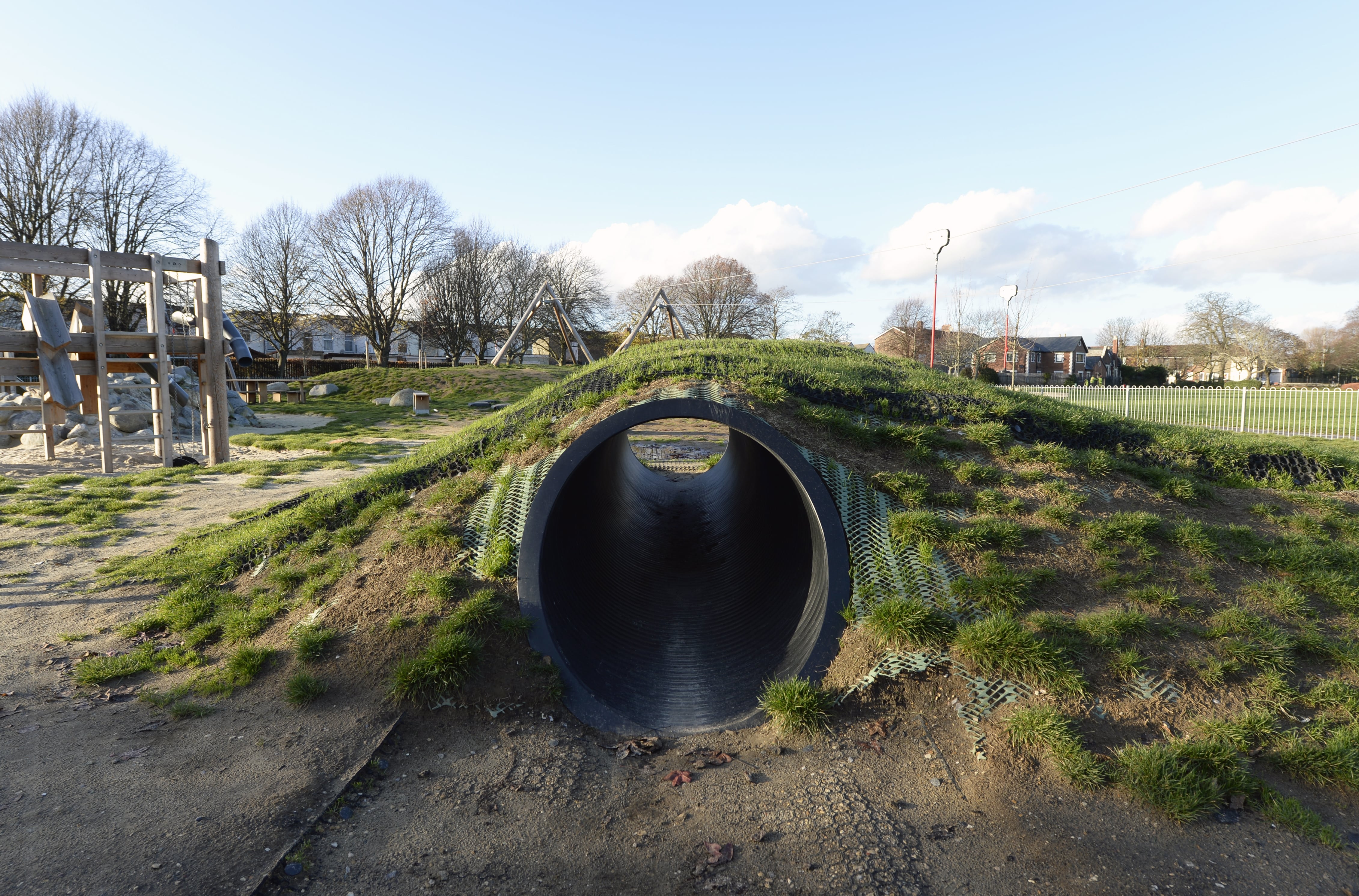 Access and routes for inclusivity
When thinking about the access of a specific play space, the demographic of the people using the facility has to be considered. For example, If the play area was previously used as a cut through for people in the community you may want to continue to allow for this, which will mean a wider range of people seeing the play area. Alternatively, the play area may be in a tucked away area that people need to travel to, and therefore road accessibility has to be considered by designers.
Inclusivity is a massive factor when designing a modern playground as it helps develop many of the basic skills that we need when we grow up whilst also installing respect between children no matter their ableness or ability. A way that children with disabilities can be included with able-bodied children is to provide equipment that both parties can use, such as a rotating plate or a carousel integrated into the ground. Along with physical disabilities, it is important to have inclusive equipment for children with sensory and cognitive impairments. Equipment suited for this includes rotating discs and pattern boards, as well as musical equipment such as gongs and sound arch's.
Interested in finding out more ways to implement your playground design? Timberplay specialises in playground designs through our in-house Landscape Architects. Contact us here to get in touch.